Category: blog
Sep 04, 2023
Our efficient waste management and transportation services
Here at Yellowstone Environmental Solutions, we are proud to provide comprehensive waste management services for a variety of industry sectors across the UK.
As part of our end-to-end service, we support our clients with hazardous and non-hazardous waste transportation and collection. We cover a broad range of the waste streams generated on our client's sites, including:
Waste and contaminated oil
Waste and contaminated fuel
Oily sludge and tank washings
Interceptor waste
Bilge waste
Oil filters and oily rags
Acids and alkalis
Paints and resins
Glycols
Aerosols
Packaged solid waste
Food waste and expired food
In this article, we will look at an overview of the hazardous waste transport regulations before looking at our waste management and transportation solutions.
What does ADR stand for in transport?
In the context of transport, 'ADR' refers to the regulations outlined in the European Agreement concerning the International Carriage of Dangerous Goods by Road.
Dangerous goods include:
Flammable liquids, gases or solids
Toxic substances
Corrosive substances
Oxidising substances
Radioactive material
Infectious substances
Explosives
Miscellaneous items, e.g. lithium batteries, asbestos
Transporting hazardous substances and materials by road poses certain safety risks, therefore strict ADR regulations for vehicles and drivers are intended to limit this risk.
Visit the United Nations Economic Commission for Europe (UNECE) site for more information on the regulations for transporting dangerous goods by road.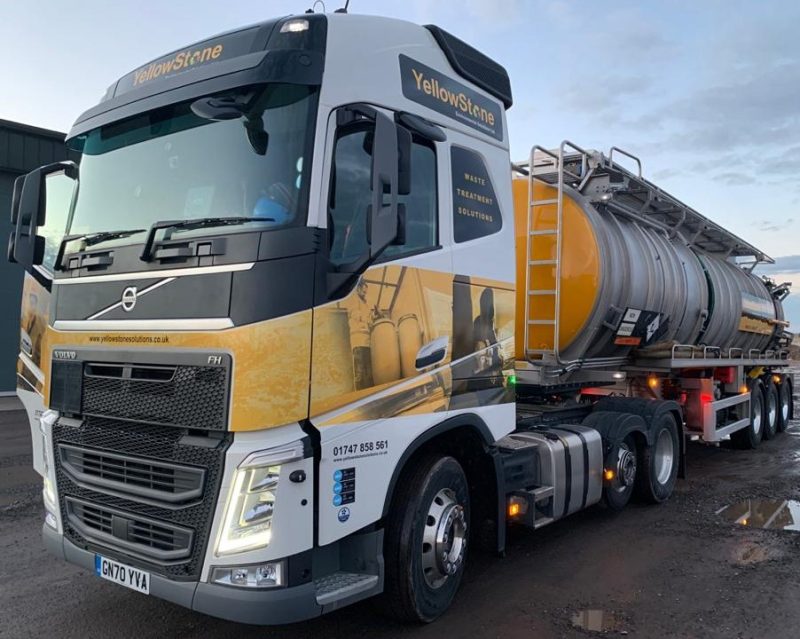 Hazardous waste transportation with ADR tankers
As a leading waste management company, we offer specialised transportation for hazardous waste. This includes ADR-certified tankers that adhere to strict safety regulations for transporting dangerous goods by road.
ADR-certified tankers ensure the safe transport of hazardous waste and are equipped with the following key features:
Tanks are designed to withstand the pressure and conditions associated with the specific type of dangerous goods they are carrying.
Some tankers have multiple compartments to transport different substances separately, avoiding contamination and reactions.
ADR-certified vehicles are required to display standardised hazard warning placards and markings to indicate the type of goods onboard. This is for the benefit of emergency responders and general road users.
ADR-certified tanks have safety valves and venting to control pressure and prevent a vacuum from forming during transit.
Vehicles have emergency shut-off functionality to stop hazardous materials from flowing out, in the event of an accident.
Certain ADR-certified vehicles have fire suppression systems.
ADR tankers have spill containment features to prevent leakage and environmental contamination.
ADR-certified vehicles include safety equipment, from PPE to spill clean up materials to be used in the event of an accident.
All of our vehicles undergo regular maintenance and rigorous inspections to meet the safety standards set out by waste transport regulations. In addition, ADR tanker drivers must undergo additional training and hold specific qualifications when involved in hazardous waste transportation.
Our waste management and transportation fleet
We have adopted a 'belt and braces' approach to transporting waste – all our drivers and vehicles are ADR standard.
Rigid tankers
Our rigid tankers are suitable for various types of non-hazardous and hazardous waste. These vehicles are real 'work horses' – they are versatile and capable with a high pressure jetter on board. This makes them ideal for cleaning as well as uplifting – for example, in a setting with an interceptor or fuel bund, where there are fuels, contaminants, leaves and debris.
Articulated tankers
Our artics are constructed from stainless steel which makes them suitable for a wide range of large volume waste streams. We can collect anything from soluble oil to heavy sludges and bilge waste.
Curtain-sided lorries
Our curtain-sided vehicles are ideal for transporting packaged solid waste, dry waste, IBCs, drums, pallets of expired food, scrap metal and metal parts.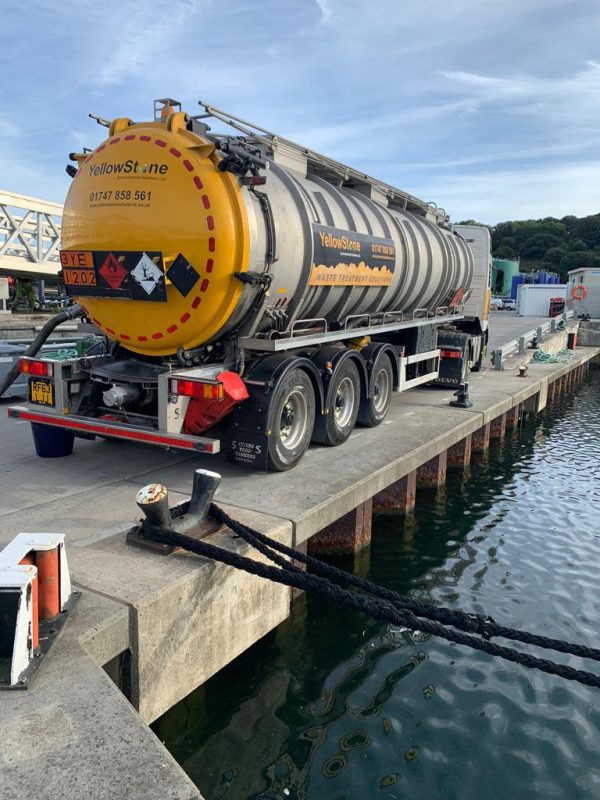 Flexibility – third party vehicles and vessels
In addition to our core waste management services, we are often involved with ad-hoc projects. Whether it's decommissioning a site, desilting a lagoon or removing a fuel tank, these projects generate waste that must be removed safely.
When the need arises, we have a tried-and-tested network of specialist subcontractors whom we can engage to support us with specific waste collections. This might include:
road sweepers
combi Jet-Vac tankers
Vactor tankers
skips and ROROs
glass-lined barrels for hazardous waste
Ensure your business complies with waste transport regulations
Whether you're looking for liquid or solid waste collection and transportation, we can help. With a dedicated fleet of ADR and non-ADR tankers, after collection we can safely dispose of waste streams at our state-of-the-art treatment plant or deliver to other specialist facilities.
Yellowstone is committed to providing clients with compliant, efficient and sustainable waste management solutions. To discuss any of our services, please call and speak to a member of our friendly team on 0330 118 0381.