Category: blog
Nov 08, 2023
Exploring the financial impacts of poor waste management
With an increasing focus on environmentally conscientious and sustainable practices, responsible waste management is absolutely essential.
And, while the environmental impacts of waste management are significant and therefore frequently discussed, there are also financial consequences associated with waste-related practices.
As a leading waste management company, we know only too well that there are many risks associated with poor or non-compliant waste practices. In fact, we are often called in to deal with spills and other serious incidents that result from inadequate disposal or storage processes.
In this article, we'll take a look at the financial impacts of poor waste management and contrast this with the benefits to be gained from appointing a reputable company to manage your waste streams. Namely, the avoidance of:
Reputational damage
Fines for environmental pollution or risks to public health
Legal action
Avoid fines for environmental pollution
The regulatory framework that governs hazardous waste disposal is primarily enforced and overseen by the Environment Agency in England; the Natural Resources Body for Wales; and in Scotland it is the Scottish Environment Protection Agency.
These agencies implement and enforce environmental regulations to ensure that waste streams are managed and disposed of safely and compliantly. These agencies also actively monitor commercial waste disposal. Companies are required to follow appropriate waste management practices in order to prevent pollution and environmental damage.
If businesses fail to dispose of waste responsibly, they may face substantial fines and penalties for environmental pollution and risk to public health.

Reduce legal liability
Producers, carriers and disposers of hazardous waste are required to exercise a 'Duty of Care'. This ensures that waste is properly managed, documented and processed or disposed of throughout the length of its lifecycle.
As well as fines, inadequate, improper or negligent disposal practices – especially those that lead to a public health or environmental incident – have the potential to result in legal and increased financial liabilities.
To avoid being prosecuted for non-compliant waste treatment, engaging a reputable disposal company can mitigate these risks.
The following are real-life examples of businesses that faced costly liabilities due to improper disposal.
An Organic Farm
In 2017, an organic farm and food company was fined £18,000 for illegally disposing of waste products including food waste and packaging materials. The company was found to be guilty of unlawfully burying waste on its land which was deemed an improper disposal and in violation of environmental regulations.
Ink and Pigment Manufacturers
In 2019, a manufacturer of printing inks and pigments was fined £1.4 million for multiple violations of environmental regulations. The company had failed to prevent emissions of dangerous substances into the air and water, which had the potential to harm the environment and public health.
In 2023, a pigment company was fined £200,000 after a driver suffered chemical burns to his feet. The driver assumed he was standing in a puddle of rainwater, when in fact the pool contained a corrosive chemical substance due to a leak caused by sump pump failure.
Property Builders and Developers
In 2020, a well known housebuilder was fined £500,000 for improperly disposing of construction waste at its sites. Inadequate disposal of rubble, soil and construction debris resulted in environmental harm and the risk of pollution.
In 2023, another national housing developer was found guilty of illegal waste activity at a site in Northumberland. The company was required to pay £100,000 as an 'Enforcement Undertaking' to environmental charities after it imported contaminated soil in 2017. The imported waste soil contained wood, metal, wire cables, rubber, plastic and vehicle tyres.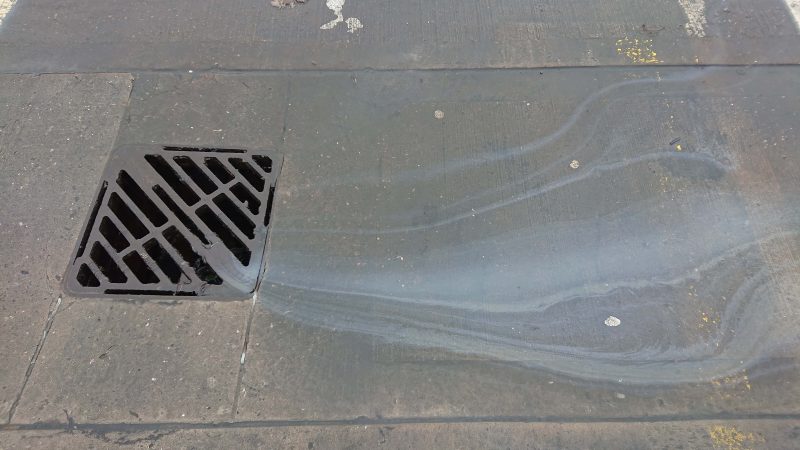 Avoid reputational damage
When looking at the impacts of poor waste management, we must also consider the company image.
Few incidents are likely to tarnish a company's reputation more than by-products of your business causing environmental pollution or posing harm to human life. By contrast, responsible hazardous waste disposal will contribute to a favourable brand image and positive regard from consumers, investors and the general public at large.
With media and social media platforms disseminating news globally and rapidly, it is increasingly important to ensure that your company and ethos are highly regarded. This includes being valued as an ethical and environmentally conscious business.
Global businesses, such as Apple Inc. have successfully leveraged their responsible disposal practices for marketing purposes. By encouraging customers to trade in their old devices for recycling, refurbishment or safe disposal, they demonstrate a commitment to environmental responsibility and sustainable practices.
Adopting responsible waste management practices can ultimately lead to cost savings. As waste-related legislation is already tight – and has the potential to get more restrictive – it is essential that your business remains compliant at all times.
The efficiencies gained through using a proper waste management company will enable businesses to reduce their waste-related expenses.
In addition, there are long-term economic benefits associated with sustainability. For example, the potential for resource conservation and reduced raw material costs. There is also a growing trend for sustainability-driven investment.
Limit the risk and financial effect of poor waste management
As we have seen, environmental agencies take violations of environmental laws and regulations extremely seriously. Companies face prosecution if they endanger the environment and public health through contamination, pollution or other hazardous practices as a consequence of poor waste management. So there are multiple economic benefits to be gained from operating compliant waste solutions.
The most effective way for businesses to implement responsible waste practices is to appoint a reputable waste management company. As well as reducing legal liability, enhancing brand reputation and avoiding penalties, it also ensures that you are always up-to-date and acting in accordance with current legislation and industry best practice.
To discuss your waste management requirements, please contact us today on 0330 118 0381. Alternatively, send us an enquiry here.